TASTINGS AND NIBBLES
23RD OCTOBER AND 30TH OCTOBER 6 PM TILL 8PM TASTING OF A FEW DIFFERENT WINES WITH SOME SUSTENANCE AT THE BRAND NEW DESTINATION FOR WINE IN PEZENAS......."LE WINE SHOP"
PLEASE E MAIL info@languedoc-select.com if you would like to attend. The events are FREE to club members
ANNUAL SUMMER LUNCH AT THE FABULOUS DOMAINE DE LA CLAPIERE MONTAGNAC 24TH AUGUST 2014. GREAT MUSIC, GREAT FOOD, GREAT WINE!
THIS IS A WORDY ARTICLE BUT IS THE BEST I HAVE READ ON THE ROLES OF YEASTS IN WINE MAKING
Yeasts: do you know what's flavouring your wine?
Friday 1 August 2014
by Benjamin Lewin MW
Yeast cells under the microscope
It might seem that the character of wine is a simple matter of grape variety, influenced by terroir and conditions of winemaking, but there's an unseen hand in every wine – the yeast that fermented the juice. The gooseberry aromas of Sauvignon Blanc, the lychee of Gewurztraminer, the strawberry notes of Pinot Noir – none of these are found in the grapes, but they are released or created by yeast during fermentation.
Of the thousand or so compounds that determine the flavour and aroma of wine (most present in vanishingly small amounts), very few can be tasted or smelled in the grape, which is why wine does not taste like grape juice plus alcohol. (Almost the only exception is Muscat, where both the grape and wine have the same 'grapey' smell, due to specific compounds called terpenes.) So, how far are yeasts responsible for what you smell and taste in wine?
'A selected yeast can account for about 10% of the sensory definition of wine,' Michel Feuillat used to say at the University of Burgundy. This is a good way of describing what yeast does – all yeasts convert sugar to alcohol, but a particular yeast may make more or less of certain aroma and flavour compounds during fermentation. However, Ann Dumont, a yeast producer at Lallemand, says: 'Yeast cannot create new flavours out of the blue. It will transform what's in the berries, not only into alcohol, but also into aroma compounds. Yeast will work from the raw material that it is supplied with.'
The effect of yeasts also lives on after them – during the process known as autolysis, when wine is maturing on the lees, the remnants of the yeast release compounds into the wine that contribute to mouthfeel. So there is not much about the character of wine that isn't influenced by yeast. One big divide in winemaking is whether to let fermentation happen naturally, by the indigenous yeasts in the winery, or whether to add cultured yeast to control the process.
Cultured yeasts
Cultured yeasts are selected from natural yeast populations; sometimes they are used specifically to help to bring out the character of their region of origin, or to emphasise specific aromatic properties. Character is sometimes reinforced by cross breeding. (Although there have been research experiments with genetically modified (GM) yeast, almost none is available commercially; 'GM yeast is completely ruled out by public opinion,' says Dumont.)
'I'm not trying to manipulate the wine, I just want the vineyard to show the best aspect it can,' says Jeff Cohn at JC Cellars in California, explaining how he came to isolate the RP15 yeast (now a commercially available strain). 'I had a vineyard at Rockpile for Syrah. I was doing bin fermentations and a few of the bins had a special flavour profile, so I isolated the yeast from those ferments. It brings a lot of minerality to the wine; it emphasises red fruits rather than black.'
Estimates for the use of cultured yeast in worldwide winemaking range from 70%-90%. Most often, the reason is probably simply to avoid the risks of spoilage that can occur with indigenous fermentation; sometimes the reasons are technical, such as using special yeast to ferment in high alcohol. The most striking examples of wine styles influenced by yeast come from aromatic varieties, where small changes in the concentrations of key components can greatly affect varietal character. The best-known example of a yeast with aromatic influence is strain 71B, which was selected for use with nouveau wines because it increases fermentation esters (usually esters evaporate before wine is consumed, but they are still present in nouveau wines that are drunk soon after bottling). Strain 71B increases formation of isoamyl acetate, which gives a strong impression of bananas. Critics said that for some years the consumers of Beaujolais Nouveau, especially in Japan, were under the mistaken impression that the natural aroma of Beaujolais was banana.
Enhancing aromas
The gooseberry and passion fruit aromas of Sauvignon Blanc come from sulphur-containing compounds that are released during fermentation from non-odiferous precursors in the grape. Cultured yeasts vary widely in their effectiveness in freeing the odours, but winemaker Marcia Monahan at Matanzas Creek in Sonoma says that the grapevine clones and canopy management are more important in determining style.
'Yeasts are in third place; they are important because the more enzymes they have, the more aromatics will be released, but the precursors have to be there.' She selects yeasts to match the properties of the grapes from each block.
How commonly are yeasts used to increase aromatics? 'Two-thirds of the wines here are made using aromatic yeasts,' says one Sancerre producer. 'People must be using aromatic yeasts – there are flavours that wouldn't be there otherwise,' says another, who uses a cultured yeast from Champagne that his grandfather introduced because of its neutrality.
Yeasts that increase the aromatic intensity of Gewürztraminer work by increasing the release of terpenes. Here there's a novel alternative – a winemaker can buy preparations of the enzyme from those yeasts and add the powder to the must. Is this crossing the line of manipulation?
Petrol is one of the most striking aromas caused during fermentation of Riesling. Not everyone likes this. At the Rheinland-Pfalz research centre in Germany, Dr Ulrich Fischer is trying to develop a yeast that will make the less odiferous vitispirane instead. Is this changing varietal character?
The classic description of Meursault is nutty and buttery. Want your Chardonnay to taste more like Meursault? Use CY3079 yeast, which increases the impression of hazelnuts and brioche. According to the authorities in Burgundy, it 'reinforces the aromas coming from the barrel and gives Chardonnay wines a rich hint which balances and melts wood tannins'.
Is using yeast to balance aromas and flavours a counterpart to choosing specific clones of a grape variety? 'Very much so, especially in cases where there isn't much heterogeneity in the vineyard block – using different yeasts is a way of building complexity,' says Christopher Christensen at Bodkin Wines in California. 'I may use one yeast for mouth-building properties and another for aromatics,' he says, 'and sometimes it pays to use multiple yeasts that compete with one another.'
Increasing alcohol in wine is a major concern worldwide. Since yeasts create the alcohol, can they help by making less of it? In principle, yeasts don't have to convert all the sugar into alcohol – some could be diverted. But here's the rub – the carbon atoms have to go somewhere. One recently developed yeast strain makes as much as 1.5% less alcohol: but it makes more glycerol and lots more ethyl acetate (nail polish remover). It's not easy to find alternative targets to alcohol that don't radically change the flavour and aroma spectrum of the wine. 'That's what yeasts do – create alcohol. If you change that, you change the whole story,' says Charlotte Gourraud at yeast producer Laffort. Yeast is best for making adjustments to minor components rather than looking for major shifts. I would be surprised if a low-alcohol yeast could be found without a profound homogenising effect.
Preserving diversity
A potential homogenising effect on flavour is one major argument against using cultured yeasts. 'The idea that cultured yeast will homogenise flavours is simplistic. It's putting all the onus of flavour creation on the yeast as opposed to the grapes and the talent of the winemaker,' says Dumont. 'There are about 200 strains, which leaves good opportunities for biodiversity,' says Charlotte Gourraud.

How far can yeast influence the flavour of wine? 'You can tailor your product to reach your customer by identifying consumer preferences, the effect that a choice has on a customer, and its genetic composition,' says researcher Linda Bisson at the University of California. 'Once we've identified the flavour compounds, we can manipulate the taste. We derive flavours from the yeast, not the grapes.'
'You can achieve almost any taste through these aromatic yeasts,' agrees biodynamic guru Nicolas Joly, but as the most vociferous opponent of using cultured yeasts, he draws a different conclusion. His basic criticism is that 're-yeasting', as he calls it, obliterates local character and vintage variation. 'Re-yeasting is the consequence of a series of mistakes. It means you have destroyed your local yeasts,' he says. Admitting that cultured yeasts can be used to make good wine (albeit lacking typicity of place and year), Nicolas believes that consumers should be informed. 'Using yeast is okay as long as the consumer is not cheated. The label should say that cultured yeasts were used to give flavour.'
The alchemist tried to turn base metal into gold. Yeast does something more interesting: it turns grape juice into wine. The winemaker can use the alchemy of yeast to direct development of style, or can take the alternative view that natural variation from indigenous yeast is an essential part of wine's character. There are no half measures here – if you use cultured yeast, you have to choose a specific strain(s), and even an attempt to be neutral (what is neutral, anyway?) is a choice. Using indigenous yeasts lets nature choose. The decision is one of the most crucial that influences wine style.
Different types of yeast and how they affect the taste of wine: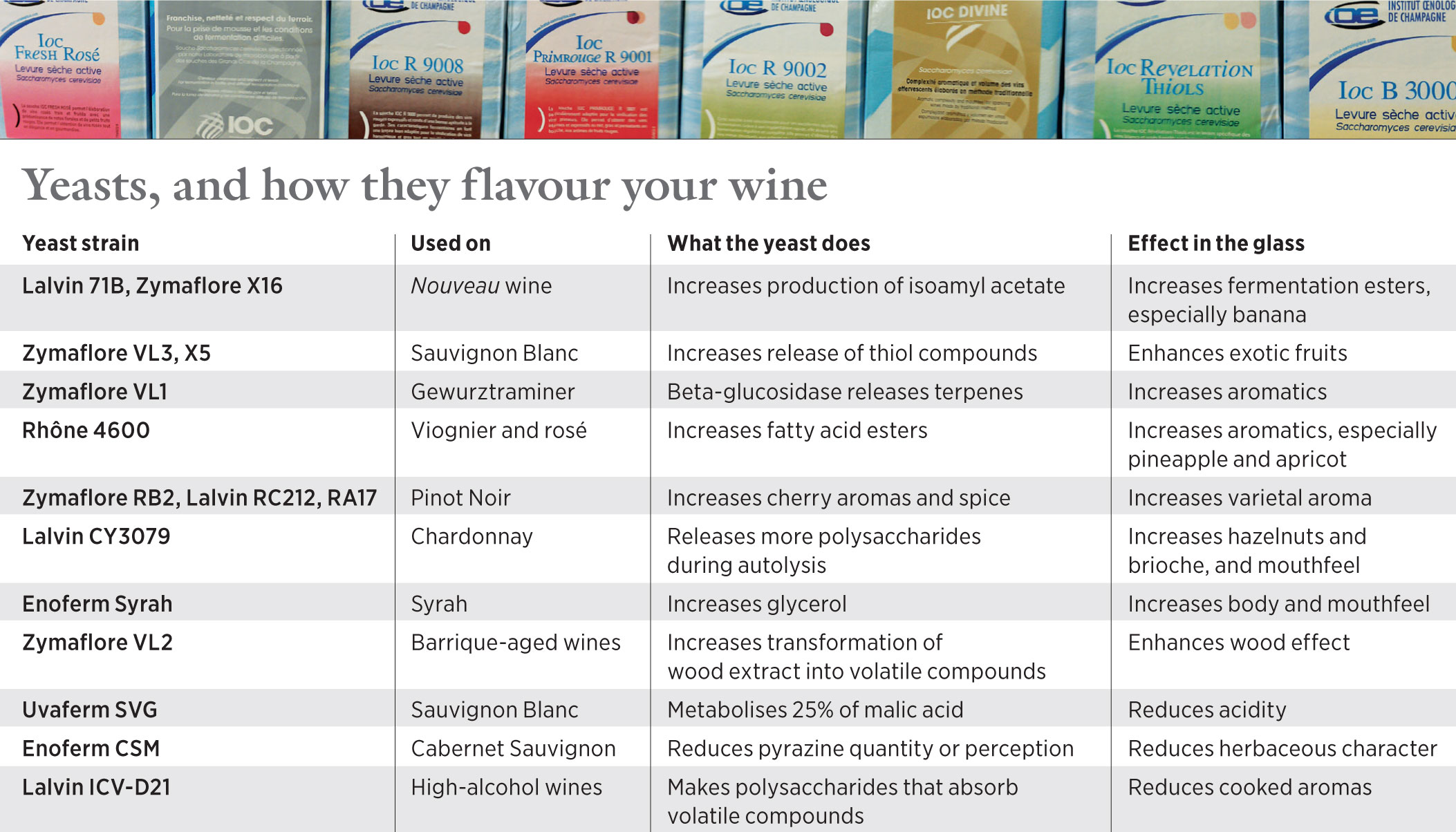 Read more at http://www.decanter.com/people-and-places/wine-articles/587335/yeasts-do-you-know-what-s-flavouring-your-wine?utm_source=Eloqua&utm_medium=email&utm_content=news+alert+link+05082014&utm_campaign=Newsletter-05082014#u4ueFU5xkW8qY4wW.99
Walk for Life 2014
This year Cancer Support France Languedoc will be running its fourth annual Walk for Life, starting and ending at the Domaine de la Clapière, Montagnac on the 21st September.
The previous three walks (all good fun) have also taken place in the Montagnac area. This is the first time that we will have a sun and rain-proof area (with parking) from which to operate, so those who have baked or got a bit wet before will, we hope, appreciate this addition!
This year we also have a Fish and Chip lunch (+ dessert) available for 12 euros.
This is one of the biggest fundraising events in our calendar, regularly raising thousands of euros through sponsorship and/or donations from participants.
We spend this money in two main ways:
• on the expenses and training of our volunteers, who provide face-to-face, email and telephone support (both practical and emotional) to Anglophones in the area affected by cancer;
• on the provision of monthly (excl Jul/Aug/Dec) Drop in Days in Pezenas, where people can access complementary therapies, information and space to talk.
It is your support of events like this that allows us to have a team of about 20 Active Listeners providing support to 20-25 clients at any one time.
To register for or make enquiries about the Walk for Life 2014, please email:csflwalk@gmail.com or phone: 04 67 89 46 51.
If anyone is currently affected by cancer and would like to contact us, please phone us and leave contact details on our Helpline number: 04 67 44 87 06 or email us on: csf.languedoc@gmail.com
General information and updates about services and events, including contact details and Drop in Days can be found on our website: www.csf-languedoc.com
This article was written by CSF Languedoc.
I THINK HE IS BEING KIND!!!!!!!!!!
Apr7
Jefford on Monday: Grey's Anatomy
Ask British wine drinkers what their favourite grape variety is, and almost a quarter of them will reply Pinot Grigio. Their wine of choice comes in a screwcapped bottle made of clear or faintly tinted glass, with a simple, graphic label featuring an ear-catching if ephemeral Italian brand, and costing maybe £5.99 or £6.99. The wine inside is colourless. That it is also odourless and flavourless (and the more odourless and flavourless, the more popular) is a now-venerable wine-trade quip.
SPRING LUNCHES_____FULLY BOOKED!!!!!
28TH MARCH AT DOMAINE DE CLAPIERS MONTAGNAC A UNIQUE OPPORTUNITY TO BE ONE OF THE FIRST TO TASTE AN EXCITING AND INNOVATIVE NEW RANGE OF WINES "NO LIMIT"
FROM 11.00 UNTIL 13.00 TASTE THESE NEW WINES TOGETHER WITH ALL THE OTHER WINES OF THE DOMAINE, HELPED DOWN WITH A LITTLE TAPAS! THE EVENT IS FREE BUT PLEASE LET US KNOW IF YOU WISH TO ATTEND.
SPRING LUNCHES ..............FOLLOWING THE VERY SUCCESSFUL AUTUMN LUNCHES WE WILL AGAIN BE AT THE BEAUTIFUL " 15 GRAND RUE IN CAUX" FOR OUR SPRING LUNCHES FEATURING SEASONAL INGREDIENTS SUCH AS ASPARAGUS, SPRING LAMB AND STRAWBERRIES. EACH COURSE WILL BE ACCOMPANIED BY A DIFFERENT WINE AND ON EACH DAY WE WILL HAVE A LOCAL VIGNERON PRESENT TO TALK ABOUT THEIR WINES.
THERE ARE TWO DATES ...10TH AND 11TH APRIL, THE COST IS 30 EUROS AND BOOKING IS ESSENTIAL AND NUMBERS ARE LIMITED!
AT THE END OF MAY WE WILL HAVE A "DISCOVER A DOMAINE DAY" AT THE STUNNING DOMAINE CADABLES NEAR GABIAN. A SHORT PROMENADE THROUGH THE VINES ON THE SLOPES OF THE VOLCANO, PRESENTATION AND TASTINGS. FURTHER DETAILS SHORTLY TOGETHER WITH THE DATE
A DATE FOR YOUR DIARIES--29TH SEPTEMBER CANCER SUPPORT FRANCE ARE HOLDING THEIR MAJOR ANNUAL FUND RAISING EVENT--WALK FOR LIFE. THIS YEAR 2 WALKS, ONE 5.5K AND ONE 11K FOLLOWING THE FASCINATING "CIRCUIT OF THE SCULPTURES" NEAR MONTAGNAC. REGISTRATIONS FROM 9.00 AT THE START POINT WHICH IS THE DOMAINE DE BRIDAUD WHICH CAN BE FOUND SIGNED OFF TO THE RIGHT AS ONE LEAVES MONTAGNAC IN THE MEZE DIRECTION. FURTHER DETAILS ON THE WEBSITE http://cancersupportfrance.org/walk-life

A HUGE THANKYOU TO EVERYONE WHO CAME AND SHARED THE FABULOUS ANNUAL LUNCH AT DOMAINE DE CLAPIERS YESTERDAY. FROM THE MANY COMMENTS RECEIVED, THE BEST YET!. SPECIAL THANKYOUS ALSO TO TINA LYLE AND CO FOR THE BRILLIANT MUSIC, TO KEN AND ALISON FOR THE SUMPTIOUS FOOD AND OF COURSE TO SOPHIE, OWNER OF THE DOMAINE FOR PROVIDING US ONCE AGAIN WITH THE SUPERLATIVE VENUE
ANNUAL SUMMER LUNCH AND TASTING 25TH AUGUST DOMAINE DE CLAPIERS MONTAGNAC
11.00 UNTIL 16.00 TASTING OF LOCAL VIGNERONS WINES FOLLOWED BY MEDITTERANEAN BUFFET LUNCH AND LIVE MUSIC. 25 EUROS
TO BOOK- E MAIL info@languedoc-select.com
WINE TASTING OF THE YEAR! 6TH JUNE 2 PM TO 5PM DOMAINE SAVARY DE BEAUREGARD NR. MONTAGNAC
A degustation libre of around 50 wines, reds and the newly bottled 2012 whites and roses from 20 plus of the regions finest independent wine domaines.
Taste at your leisure with no pressure to buy. An opportunity to choose your favourites for the summer
Entry 5 euros--- All tastings FREE
Book now to reserve your place
GREAT LUNCH AND WINES EVENT AT ONE OF OUR BEAUTIFUL DOMAINES
Lunch at Domaine Saint Hilaire, doors open at 12:30
Amuses Bouches
Rosé 2011 vs Sauvignon 2012
soupe d'asperges/Asparagus Soup
Vermentino 2012 vs Vermentino Silk 2009 (Bronze – Concours Feminalise)
galettes de crabe façon Nouvelle-Orleans avec oeuf de caille frit et coulis de tomate et moutarde
New Orleans Style Crab Cake with Fried Quails Egg and Tomato & Mustard Coulis
Viognier 2012 vs Silk Chardonnay 2007 (Decanter Silver Medal)
dorade avec cumin et sauce poivrons doux
Cumin Dorade with Sweet Pepper Sauce
Advocate Viognier 2007 (One Star Andreas Larrson) vs Advocate Rosé 2007
gigot d'agneau grillé façon thaï avec sauce framboise et mangue
Thai Style Grilled Leg of Lamb with Raspberry & Mango Sauce
Filature Grenache 2009 vs Advocate Syrah 2010
Dessert
30 Euros per personne, café et vin inclus
Réservations 04 67 24 86 90 ou ken.miller@wanadoo.fr
*annulations le jour avant 50% **annulations le jour même 100%
Tel +33 4 67 24 00 08
DOMAINE DE LA CLAPIERE

Nous vous proposons une journée portes ouvertes de 10H A 17H le DIMANCHE 26 MAI 2013 ;
Au programme : Visite des chais et dégustation de nos vins toutes la journée
Déjeuner en musique avec buffet campagnard et paella maison pour 15 euros
(sur réservation au 06 17 74 35 33)
Au plaisir de vous voir bientôt
We propose you an open day on the Sunday 26 of May, from 10AM TO 5PM
Winery tours and wines tasting all the day, and a lunch with a buffet and paella for 15 euros
(only on booking at 06 17 74 35 33)
See you soon
Sophie et Xavier PALATSI
Domaine de la Clapière
34530 MONTAGNAC
Port. : 06 17 74 35 33
Domaine : 04 67 24 06 16
Fax : 04 67 24 06 41
PROMOTION AT DOMAINE DE CLAPIERS
Bonjour,
Nous vous proposons notre foire de printemps avec des promotions du 15 mars au 15 avril, vins disponibles à la cave de Sophie au Domaine ou sur notre boutique en ligne www.LACLAPIERE.COM<http://www.LACLAPIERE.COM>

JALADE 2011, rosé IGP OC AU PRIX DE 15 EUROS LE CARTON AU LIEU DE 27 EUROS

FIGUERETTE 2011, blanc IGP OC AU PRIX DE 30 EUROS LE CARTON DE 6 BOUTEILLES au lieu de 42 EUROS

JARDIN DE JULES 2011, ROUGE IGP OC AU PRIX DE 24 EUROS LE CARTON DE 6 BOUTEILLES au lieu de 27 EUROS

GATE FER 2010, GRANDE CUVEE IGP OC AU PRIX DE 42 EUROS LE CARTON DE 6 BOUTEILLES au lieu de 54 EUROS

ETINCELLE 2008, CUVEE D EXCEPTION, IGP HERAULT AU PRIX DE 90 EUROS LE CARTON DE 6 BOUTEILLES au lieu de 120 EUROS

ETINCELLE 2011 BLANC,IGP OC AU PRIX DE 54 EUROS LE CARTON DE 6 BOUTEILLES au lieu de 72 EUROS

A TRES BIENTOT



Sophie et Xavier PALATSI
Domaine de la Clapière
34530 MONTAGNAC
Port. : 06 09 04 17 23
Domaine : 04 67 24 06 16
THE "INTRODUCTION TO WINE" COURSE ON THE 12TH MARCH
JUDGING BY THE E MAILS AND COMMENTS WE HAVE RECEIVED WE SEEM TO HAVE BEEN SUCCESSFUL! "FANTASTICALLY INFORMATIVE" " HUGELY ENJOYABLE" "PITCHED EXACTLY RIGHT" "CAN,T WAIT FOR THE NEXT ONE" JUST SOME OF THE COMMENTS FROM THOSE WHO ATTENDED.
IF THERE IS SUFFICIENT INTEREST WE WILL REPEAT THE INTRODUCTION COURSE IN SEPTEMBER AND FOLLOW THAT WITH A MORE COMPREHENSIVE DAY ON THE WINES OF SOUTHERN FRANCE WHICH WILL ALSO FOCUS MORE ON THE WINE MAKING AND THE ROLE OF THE OENOLOGIST.
THE TERROIR OF LANGUEDOC
ON THE WINE COURSE LAST WEEK DOMINIC GEORGE TALKED ABOUT THE INFLUENCE OF TERROIR IN LANGUEDOC. A POINT MADE ONCE AGAIN BY ANDREW JEFFORD IN THE ARTICLE ABOUT SAINT CHINIAN.
Jefford on Monday: Birth of a Landmark?
(picture: Thierry Navarre's vineyard full of Rybeyrenc (an old rare variety, widely planted before phylloxera)

Up in Navarre's vineyards, rain blackened his ancient Rybeyrenc vines. "It's good we're in the schist sector of the appellation," he said, lifting an unmuddied sole from the free-draining rubble by way of illustration. "If we were in the clay-limestone part, you'd be wearing 6-kilo boots by now."

That day of heavy rain made for perfect tasting weather. We'd spent the morning in St Chinian's Maison des Vins, surveying at the appellation's most ambitious wines. As rumours swirl that Pic St Loup and La Clape will finally join the Languedoc AOC club a little later in 2013, so this seemed as good a moment as any to ask what St Chinian, an AOC since 1982, has to offer. Is it now a Languedoc landmark?

Before I answer that, let me share a conviction with you. I've spent a quarter of a century visiting vineyards around the world. It's rare, I promise, to see land which seems to insist on a wine vocation with the same force that the hill vineyards of the Languedoc do. There are hundreds of secret tracks and paths up here which will take you over a rocky shoulder or through a tunnel of holm oak and pine forest to reveal stone-strewn terraces of old vines which can take your breath away with the force of their beauty and their rightness. It's vineyard, or it's wilderness: you know there's no other choice.

Of course, you need bottles for proof. Over the past three years, I've had repeated opportunities to compare, over dinner at home, Languedoc wines with those from around the wine world. The best perform magnificently: rich, plush, textured yet naturally balanced, but more importantly uniquely perfumed and effortlessly characterful, seemingly saturated in the 'placeness' which many wine-growing locations struggle to express. They are great wines in the most innocent, least laborious sense of all. And they're usually just a fraction of the price of the wine alongside them which, in drinking, they quickly eclipse.

That said, two big challenges remain, and both were encapsulated by my day in St Chinian. The first is that a clear identity still eludes most Languedoc AOCs: I doubt there is a taster in the world who could, blind, unerringly and repeatedly distinguish St Chinian from Faugères, from Terrasses du Larzac, or from most Pic St Loup. The hills, remember, form a near-continuous strip between Alès and Carcassonne. They all lie within the same climate zone, even if they are geologically and topographically diverse.

The second challenge is that making even good wine here is oddly difficult, and so many of the customary gestures (a little more ripeness, a tweak of the blend, another few months of élevage) seem to rob the wines of their thrilling expressive force and throw them off balance and into excess. New oak in particular seems to me almost a weapon of mass destruction; if I was Lord of Languedoc, I'd try taxing it towards oblivion. (For red wines, that is. It often works very well with whites.) My brett squad would be kept busy, too.

Here's a short list of outstanding current wines from St Chinian (some illustrate that oak can be successful if used with extreme care). St Chinian is fortunate, by the way, in having some excellent co-operatives, notably that of Roquebrun itself -- historically, a hugely successful performer in the Decanter World Wine Awards as well as last year's inaugural Asia Wine Awards -- and the Cave de Vignerons de St Chinian, so there is plenty of value to be sniffed out. A landmark? Well on the way, I'd say.

Domaine la Linquière St Chinian, 2010 La Sentenelle 310
A new domain to me, but this was my star red wine from the recent tasting. The vineyard quality (high-sited schist at 310 metres) is evidently superb: perfume saturated, with a palate of poise, concentration, complexity and diagnostic wildness.

Domaine Moulinier, 2009 Les Terrasses Grillées
A gorgeous snapshot of the garrigue: armfuls of herbs; bacon sizzling over juniper twigs.

Domaine La Madura, 2009 Classique
Fresh and charming, with very gently expressive, milky fruits; a lushly drinkable wine with a liquorice-spice finish.

Mas Champart, 2010 Causse de Bousquet
Sweet, warm, tender: few St Chinians manage the kind of compositional harmony which Isabelle and Mathieu Champart achieve.

Borie la Vitarèle, 2010 Midi Rouge
Astonishing wine: profound, tight-sewn, explosive and brooding, this wine begs for cellar time in a way that few of its peers do.

Clos Bagatelle, 2011 Le Clos de Ma Mère
A brilliant blend of Roussanne, Grenache Blanc, Carignan Blanc, Viognier and Vermentino: packed with blossomy scents, and with a deliciously languid, mellow finish. Fine white from the skilled brother-and-sister team of Luc Simon and Christine Deleuze.








Read more at
http://www.decanter.com/news/blogs/expert/583717/jefford-on-monday-birth-of-a-landmark?utm_source=Cheetahmail&utm_medium=email&utm_content=news+alert+link+180313&utm_campaign=Newsletter-180313&dec#KxjHHKK2AxeD79SL.99
FOR THOSE MEMBERS WHO LIVE IN THE UK- A CHILEAN WINE , ABSOLUTELY DELICIOUS AND AFFORDABLE!
Viña Mayu, Sangiovese, Elqui Valley 2011
The Italian know-how shines through in this characterful but stylish Sangiovese. Dried cherry and roasted herb flavours come together in a succulent, elegantly textured flavour profile. Great value. 18pts/20 (93/100pts)
Price £6.48 Asda, Guy Anderson
Drink 2013–2014
Alc 14.2%
Read more at
http://www.decanter.com/wine/labels/34230/slideshow/11/17-chilean-wines-to-excite-the-palate#LVLIrF563piQUyWk.99
PICPOUL DE PINET TO BECOME AN APPELLATION IN ITS OWN RIGHT
THE REMARKABLE RISE IN POPULARITY OF THE STAR OF THE ETANG DE THAU, ITS WHITE WINE FOR SEAFOOD AND FISH HAS FINALLY RESULTED IN IT BEING GRANTED A STAND ALONE APPELLATION. THE 24 INDEPENDENT PRODUCERS AND THE 4 CAVE COOPERATIVES WILL NOW PROUDLY DESIGNATE THEIR WINE AS APPELLATION PICPOUL DE PINET.
SINCE 1992 IT HAD BEEN AN ADJUNCT APPELLATION TO THE RATHER LUDICROUS "CATCH ALL" COTEAUX DU LANGUEDOC.

12TH MARCH 2013
INTRODUCTION TO WINE---- WINE COURSE
AN INVITATION TO FIND OUT A LITTLE MORE ABOUT WINE !
Don,t want qualifications but would like to know a bit more about wine—Languedoc Wine School has the perfect answer. A one day course " An Introduction to Wine" , a day of interest, enjoyment and opportunity.
An insight into the different styles of wine, different colours, different grapes, the vineyard, the wine making processes and of course that mystical art, wine tasting!
We promise the day will be interesting, informative, fun and rewarding. A real opportunity to get the answers to those questions many of you would like to ask.
THE DATE: 12th MARCH 09.30 to 16.00
THE VENUE: DOMAINE DE LA CLAPIERE MONTAGNAC
THE COST : 60 euros to include all course materials, wine tastings and lunch with wine . Go on, make wine more fullfilling!
COURSE OUTLINE
09.15 Welcome. 09.30 Course Commences
Wine definition and history
Global Production and Consumption
Wine types and production processes;
Still, Sparkling, Fortified. Red, Rose, White. Sweet and Dry
Introduction to wine tasting
Tastings
Lunch
Winery visit
The Languedoc Region
MANY THANKS TO THE MEMBERS WHO SUPPORTED THE RED WINE TASTING AT DOMAINE SAVARY DE BEAUREGARD LAST SATURDAY HELPING MAKE IT A REALLY BUZZING EVENT. FOR THOSE WHO SADLY DIDN,T MAKE IT, YOU MISSED SOME REALLY SPECIAL WINES. HOWEVER YOU WILL GET ANOTHER OPPORTUNITY IN FEBRUARY NEXT.
20TH OCTOBER- DEGUSTATION LIBRE OF RED WINES AT DOMAINE SAVARY DE BEAUREGARD BETWEEN MONTAGNAC AND MEZE. DOZENS OF RED WINES FROM MANY OF THE BEST LANGUEDOC DOMAINES FOR YOU TO TASTE IN FULL FREEDOM WITH NO ONE TO SELL YOU ANYTHING!!! ENTRY ONLY 5 EUROS- RESERVE AT info@languedoc-select.com
8 TH AUGUST CLAPIERES LUNCH ON 19TH AUGUST NOW FULL!!!
OUTLINE CALENDAR OF EVENTS
Feb Club and website relaunch
March Vineyard Morning. Friday 16th from 10am. A fascinating morning spent at the Abbaye Sylva Plana in Laurens. First off we head into the vines to discover exactly what they're doing in when we drive past. Not only will we discover the secrets of "la taille" or pruning, but we will also find out what "terroir" really means. The winemaker will be using a horse and plough to work the ground, and everyone will have a chance to have a go! So cameras at the ready. Then it's into the chai for an in-depth tour followed by a generous tasting and then lunch in the lovely new restaurant at Sylva Plana. The price for all this including lunch with wine, is just €25. Reservation is obligatory at info@languedoc-select.com. As usual, we need a minimum number to be able to put on this type of event, so we hope that if you are interested, you will book as soon as possible. You can pay on the day, but you must take the whole package, so that we make it a wortwhile event for the vineyard.
April

29th April Domaine de la Clapiere

Bonjour ,
Nous vous invitons à notre journée portes ouvertes le DIMANCHE 29 AVRIL.
Nous vous proposons
Une exposition de peintures sur le monde lumineux des habits de lumière, des toréros et des taureaux, proposée par Remy Desamy
des dégustations et visites de la cave tout au long de la journée.
Un déjeuner avec buffet campagnard et paella, en musique avec le musicien chanteur Michel Mulleras
(15 euros sur réservation au 04 6724 06 16)
A très bientôt
Sophie et Xavier PALATSI
DOMAINE DE LA CLAPIERE
34530 MONTAGNAC
14 th to 21st april ART EXHIBITION , " THE VINE " at Domaine du Bosc Vias

May

June 15TH WHITES AND ROSES- THE EVENT NOT TO MISS!!
VENUE; DOMAINE SAVARY DE BEAUREGARD- OUTSIDE MONTAGNAC ON THE ROAD TO MEZE
TIME; 10.00 UNTIL 13.00

Dear Wine Lover
At Languedoc Select, we know that choosing your summer wines is an important business. That's why we have decided to organise a tasting where you can taste all the wines you want, without the pressure of a winemaker in front of you hoping for a sale!
We are getting together around one hundred local white and rosé wines from the 2011 harvest and putting them up for tasting on the 15th June from 10am until 1pm at the beautiful Domaine Savary de Beauregard in Montagnac.
The idea, which is now popular at professional wine events, is that you can wander around and pour and taste the wines at your own pace. Each wine will be accompanied by an info sheet, which will give information regarding the Domain, the grape varieties, any particular techniques used and of course the Domain price.
The wines will not be available to purchase at this tasting. This is purely a tasting event. However, over that weekend, with your LS card, you will have the chance to purchase any of the wines shown at 6 bottles for the price of 5 when you go to the Domain.
This is a great opportunity to taste a huge selection of local wines, and to taste and appreciate them without feeling under any pressure to buy. You can then formulate your own opinions and buy at the Domains or in the shops at your leisure.
Not only is this good for consumers, it also avoids the Domains having to spend time and money being present at an event, as they are highly sollicited, and times are tough for everyone.
The price is €5 per person including a glass, and during the morning there will be a couple of vignerons coming along to give short talks about how rosé wines are made, and also how to decipher some of the new labels and appellations that we are seeing on our bottles.
Although you do not need to book for this event, it is always nice for us to know whether you think you might turn up, as it does help with the organisation. If this event works, then we will organise a similar event for reds in the Autumn.
For your information, Domaine Savary de Beauregard is easy to find, on the road between Montagnac and Mèze, and has lots of car park space.
July Wine course The wines and wine areas of Languedoc Roussillon
Discover a Domaine
August Annual wine lunch 19TH FROM 11.00 DOMAINE LES CLAPIERS MONTAGNAC
9TH MUSIC AND ART EVENING FROM 19.30 DOMAINE SAVARY DE BEAUREGARD MONTAGNAC
THROUGHOUT AUGUST EXHIBITION OF PAINTINGS BY SIMON FLETCHER AT DOMAINE LES CROIX-BELLE PUISSALICON

September Discover a Domaine
October Wine Course The wines and wine ares of Languedoc Roussillon
Details of dates and venues will be entered ongoing

Discover a Domaine and the people

Visit a domaine which has special attributes in addition to it's wines

10.15 Arrival and Coffee
10.30 Welcome, Introduction and story of the Domaine
11.00 Visit the winery/ domaine
11.45 Tasting
12.15 finish
Cost 5 euros

To give you the opportunity to enhance your day there will be a recommendation of a local restaurant at which you can avail yourselves of a good value for money lunch!
Wine Courses
For details of the different wine courses click on the heading at the top. The courses are designed specifically to give an understanding of and an insight into the subject not to prepare you for a university degree!